Use this free 100 counting chart with your child to count or change the background to highlight skip counting in 2, 3 or 5.
This 100 counting chart is also customizable, you are able to change the font of the numbers and well as the color which enables you to turn this chart into either a handwriting tracing page or a way for your child to practice number formations.
Don't forget you can also change the title of the chart to include the childs name!
A 100 counting chart is a great visual tool for young kids to develop number sense. By seeing how all the numbers relate to each other, they'll naturally start to see the patterns that will help them learn to count and write numbers 1-100.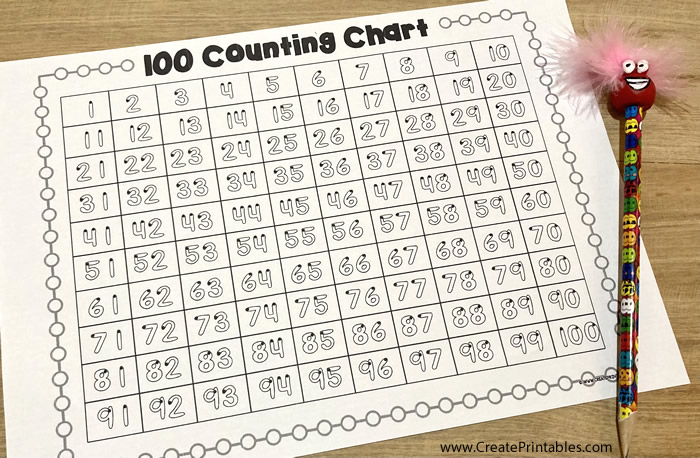 How to Customize This Printable 100 Counting Chart
Number Tracing
It's well known that writing things down helps you remember them, and the same goes for kids! To help your child better remember the numbers 1-100, change the font on this printable 100 chart to one of the dotted options.
Not only is this good for helping kids remember what order the numbers come in, it's also great number writing practice too.
Skip Counting Chart
Skip counting is something most people use in everyday life without a second thought; but it can be intimidating for young kids who are just beginning to get a handle on number sense. Being able to count in multiples doesn't just make basic math easier, it's also an important foundation for more complex sums like multiplication.
Use the customization options to highlight multiples of twos, threes, or fives to make skip counting practice easier.
100 Chart Activity Ideas
Games and activities are always a great way to make learning more fun for kids. Here's some ideas to try at home or in the classroom:
100 Counting Chart Puzzle/Ordering
This one is great for younger kids or hands-on learners. First, print out the number chart. Then cut out each number individually — these will be your puzzle pieces. Mix the numbers up, then have the child assemble them into a 100 counting chart.
Tip: To make this activity more durable for reuse, print on cardstock or laminate the numbers.
Match the Numbers
Print out a second copy of the number chart, then use it as a guide for your child to set the cut out numbers on top of in the correct order.
Fill in the Number Chart
This can be adjusted based on your child's age and skill level. Arrange the cut out numbers in a grid similar to the original printable. Then remove several numbers from the chart. Mix them up, then ask your child to fill in the blanks.
Create a Number Line
Start with as many numbers as your child is familiar with. Mix them up, then have your child arrange them in order in a straight line.
Skip Counting
Before you start, decide which number you'll be working on.
There are two ways you can do this activity: the first, which is best for younger children, is to create your cut outs from the skip counting version of the chart. That way the numbers you're working on will be highlighted.
The second option, which is more challenging, is to use the regular number chart without highlighting.
To play, mix some or all of the numbers up in a pile. Then have your child pick out multiples of the number you're working on.
If it's a new skill, your child will probably want to rote count the skips and find the numbers in order, but with practice (and encouragement) they will be able to spot the multiples in any order.